Let's face it, today everyone has a digital camera and even an iPhone can take a pretty decent photo under the right circumstances. But it is really important to keep one thing in mind when considering using this everyday technology to take photos of your work: You are putting your "pretty decent" photos up against photos taken by professional photographers with professional equipment. Having great photographs and not simply "pretty decent" photos can be the difference between breaking even and pushing ahead to a new realm where your work can be truly valued for the time and passion you have put into it. This could not be more true when it comes to jewelry photography.
Once you have taken the leap into the professional realm, there are other decisions that will now need to me made. For example: what style of photography is going to showcase your work the best? Well, that will all depend on how you plan on using the photos. One style of photography does not always work for every need. In an earlier blog post I wrote about the multiple styles of photography I use for product photography. In this post, I will explore the various photography styles and their uses when the product to be presented is jewelry and how to decide what style or "look" will work best for you.
I have had many jewelry clients throughout the years and have approached them with a wide range of styles and techniques. I have come to find that there are three styles of jewelry photography that I keep returning to. I have been photographing artist Shari Both's jewelry for about ten years. Over this course of time Shari has come to me with different needs for her photos. Considering her needs have called for each of these styles of photography I am happy to use her photos as examples of each of these styles.
Jewelry photography on a reflective black surface
This is a very classic and appealing style of jewelry photography that you will often see in high-end exhibition catalogs, magazines or other publications. This style is a bit more time-consuming during both the photography and the post-editing process, but definitely worth the investment. This is, in my opinion and in the opinion of many others including jurors and potential customers, one of best styles to showcase jewelry.
Jewelry photography with a pure white background
Photography on a pure white background is the standard for many submissions including Amazon and a countless number of jewelry catalogs around the world. This is the preferred style for websites with pure white themes. It is a very clean look but you have to be careful of a few things. You can tell quite easily when a piece of jewelry has been cut out and the background has been digitally removed. This can make your jewelry appear to be floating in space and not anchored by any shadows. One other important aspect of the pure white background is that it is in fact, pure white. If it is not, when the file is placed on to a pure white background the outside edges of you're uploaded file we'll have a distinct off-white or gray edge. This is definitely something  you don't
want.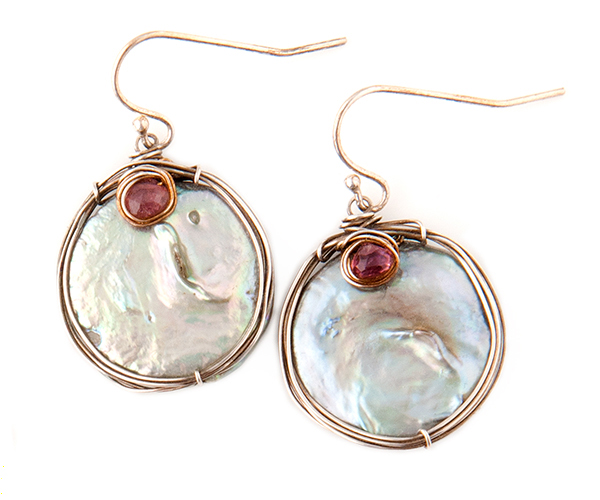 Jewelry photography with a creative approach
This style of photography is definitely open to interpretation. Here is where some of the best artistry in photography can be used. Truly the sky is the limit here, but you don't want that sky to take away from the jewelry you are presenting. It can be easy to get carried away with props or other means to an interesting photograph. So keep the focus on the jewelry. Often jewelry designers may choose to use this style of photography on their homepage or advertising but choose to use a simpler style, such as the pure white background, for the rest of their work.
---
---
You might also like
---